Which torrent sites are the most popular this year? As we continue a long-standing tradition, we see that The Pirate Bay comes out as the king of torrents once again. Since several torrent sites have shut down in recent months, this year's top list also reveals some newcomers.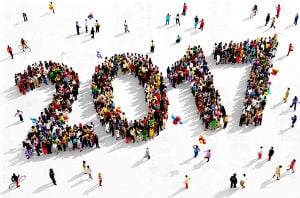 At the beginning of 2017 the torrent landscape looks quite different from a year ago.
With the shutdown of KickassTorrents and Torrentz.eu, two of the largest players in the scene disappeared.
However, their places were quickly filled by established sites and a few new faces. The Pirate Bay is in the lead once again, closely followed by ExtraTorrent and RARBG, which gained many new visitors in recent months.
The unofficial Torrentz reincarnation Torrentz2.eu is the highest newcomer in fifth place. This meta-search engine copied the look and feel of the defunct meta-search engine and covers dozens of extra sites compared to its predecessor.
TorrentProject is also doing well. The site has been around for quite a few years already but never made it into the top ten before.
Finally,
Nyaa.se
and
Rutracker
also deserve a mention. Both have enough traffic to warrant a listing, but we chose to limit the list to sites that are targeted at mainstream content for an English or international audience.
Below is the full list of the ten most-visited torrent sites at the start of the new year. The list is based on various traffic reports and we display the Alexa rank for each. In addition, we include last year's ranking.
MOST POPULAR TORRENT SITES
The Pirate Bay is the "king of torrents" once again and also the oldest site in this list. The past year has been relatively quiet for the notorious torrent site, which is currently operating from its original .org domain name.
ALEXA RANK: 116 / COMPETE RANK: NA / LAST YEAR #2
ExtraTorrent has steadily grown its userbase over the past several years and this trend continues. According to the site's founder, ET's active community is one of the main reason for this success. The site is also the home of the popular ETTV and ETRG release groups.
ALEXA RANK: 244 / LAST YEAR #3
RARBG, which started out as a Bulgarian tracker, has gained the hearts and minds of many video pirates. Movies and TV-shows with a RARBG tag are a common sight on other torrent indexes as well. The site was founded in 2008 but only made its first appearance in the top ten in 2015.
ALEXA RANK: 282 / LAST YEAR #5
YTS.ag is in no way affiliated with the original YTS or YIFY group, but succesfully took its place late last year. Not all other torrent sites are happy with the 'brand hijack' and several are actively banning its releases.
ALEXA RANK: 335 / LAST YEAR #9
Torrentz2 is a stand-in for the original Torrentz.eu site, which voluntarily closed its doors last summer. The meta-search engine is open about the fact that it's not related to the "real" Torrentz and positions itself as a new and improved version, searching over 60 other torrent sites.
ALEXA RANK: 415 / LAST YEAR #NA
1337x had some issues a year ago, when several of the admins and moderators protested over security concerns. However, much progress has been made since. The site improved, kept growing in traffic, and recently rolled out a new design as well.
ALEXA RANK: 819 / LAST YEAR #6
TorrentProject is a familiar name in the torrent scene but appears in the top ten for the first time. The site uses DHT to find content and currently has more than 10 million torrents in its database.
ALEXA RANK: 872 / LAST YEAR #NA
The original TV-torrent distribution group EZTV shut down after a hostile takeover in 2015, with new owners claiming ownership of the brand. The new group currently operates from EZTV.ag and releases its own torrents. These releases are banned on some other torrent sites due to this controversial history.
ALEXA RANK: 1,472 / LAST YEAR #7
TorrentDownloads has been around for several years. Like many other sites it is actively blocked by ISPs in several countries. The site offers a no-nonsense index that provides torrents to millions of users each month.
ALEXA RANK: 1,946 / LAST YEAR #10
Limetorrents.cc regained a spot in the top ten this year. The site's operator also launched the torrent cache iTorrents a few months ago, which is used by several other torrent search engines.
ALEXA RANK: 2,433 / LAST YEAR #NA
Disclaimer: Yes, we know that Alexa isn't perfect and that Compete has plenty of flaws, but when combined both do a pretty good job at comparing sites that operate in a similar niche.