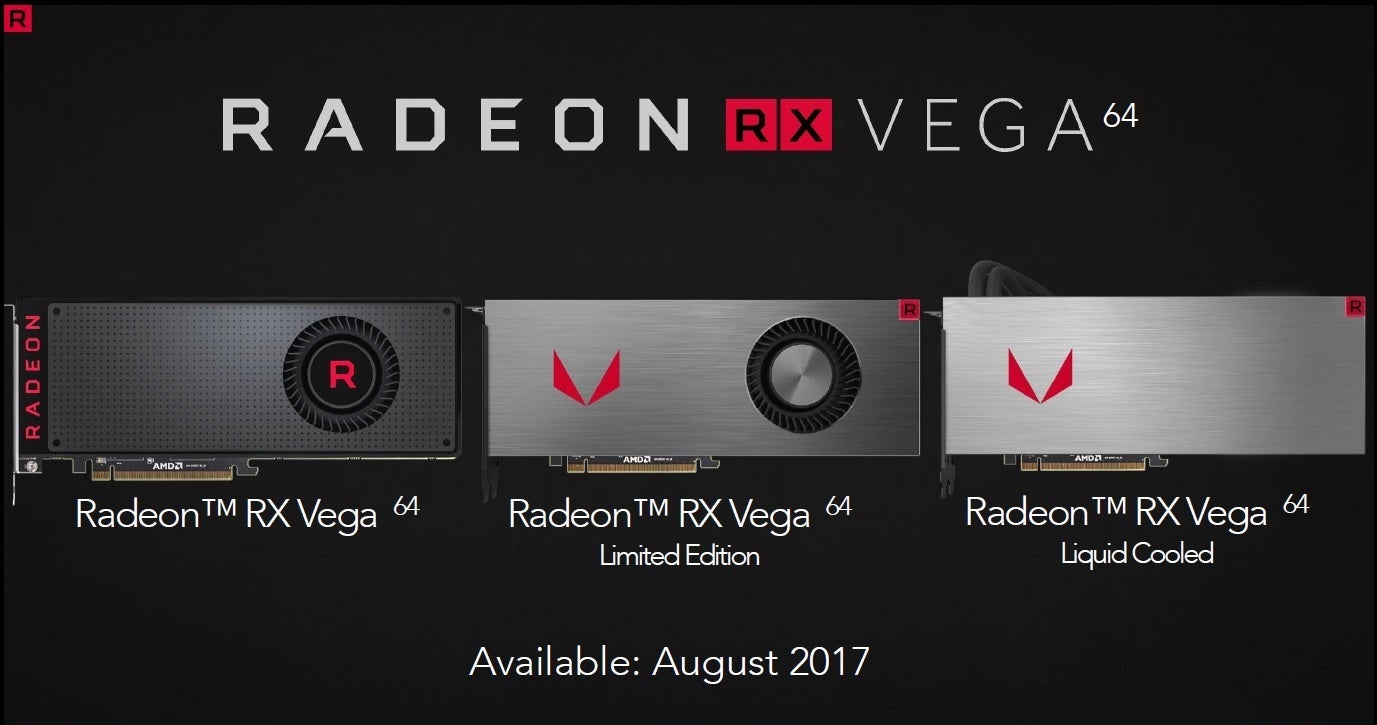 After months of anticipation, AMD on Sunday finally unveiled its Vega gaming GPU lineup that it expects will put the company back into the high-end graphics card game. Here are the details on Radeon RX Vega 64 and Radeon RX Vega 56.
The $499 Radeon RX Vega 64 will feature 64 compute units, 4,096 stream processors, and 8GB of advanced HBM2 memory with 484GBps of bandwidth. It will run at 1,247MHz base clock with a boost clock of 1,546MHz. The card is rated at 12.66 TFLOPS of performance.
The Radeon RX Vega 64 Liquid Cooled Edition will feature 64 compute units, 4,096 stream processors, and 8GB of HBM2 with 484GBps of bandwidth. However, thanks to its liquid cooling, AMD will increase the base clock to 1,406MHz and its boost clock to 1,677MHz. The higher clock speed also ups its floating point performance to 13.7 TFLOPS. Although only included as part of a "pack" (details below), the card essentially costs $699.
The $399 Radeon RX Vega 56 will feature 56 compute units, 3,584 stream processors, 8GB of HBM2 RAM with 410GBps of bandwidth, and will run at a 1,156MHz base clock and 1,471 boost clock. It's rated at 10.5 TFLOPS.
Although functionally no different than the black plastic-shrouded Radeon RX Vega 64, AMD will also offer a Radeon RX Vega 64 Limited Edition with a brushed aluminum shell. The Limited Edition will be shipped to initial buyers until they run out. AMD wouldn't say how many Limited Edition versions it produced, but said it wasn't being "chintzy," so most early buyers should expect to get them.
All of the cards feature a DIP switch setup on the back similar to that of the Radeon Pro Frontier Edition, letting you vary the LED color. All four iterations will offer three DisplayPort 1.4 ports, and a full-size HDMI 2.0 port, as well. The cards should be available August 14.
AMD also teased a
Radeon RX Vega Nano
at its Capcaicin event, gifting the first one to Epic's Tim Sweeney in a move reminiscent of
Nvidia's original Titan X launch. The itty-bitty card is designed for mini-ITX systems and supplants
the original Radeon Nano, which leveraged HBM's small footprint to cram big-time power into tiny hardware.
New 'Radeon Pack' concept gives gamers a chance, maybe
Responding to
the scarcity of Radeon GPUs
due to the coin-mining craze, AMD graphics chief Raja Koduri said he often hears complaints.
"Does AMD care about the gamer?" Koduri said gamers ask him. "We talk [about this problem] a lot; we do care about the gamer a lot."
To help ensure cards get into gamer's hands, AMD has come up with the "Radeon Pack" concept, which gives gamers discounts when the GPUs are purchased with other hardware. For example:
The Radeon Black Pack will give gamers a $200 break on a Samsung 34-inch, 1440p wide-aspect-ratio FreeSync monitor; $100 off of a Ryzen 7 CPU and motherboard combo; and two games AMD says are valued at $120.
The Radeon Aqua Pack will come with the liquid-cooled Radeon RX Vega 64 for the price of $699, along with the two games, plus the discounted monitor, CPU and motherboard options.
The Radeon Red Pack is similar to the Aqua Pack, but will cost $499 and comes with a Radeon RX Vega 56 instead. Like the other packs, it will come with two games, plus the discounted monitor, CPU and motherboard option.
The hardware discounts will be awarded when a gamer adds a graphics card to his or her cart at an
online
store. Once that happens, the discounts for the Samsung CF971 FreeSync monitor, Ryzen 7 and an X370 motherboard will be made available. Those discounted purchases, however, must be made immediately at check out, and won't be available again.
So how does this help gamers? That's the tricky part. AMD hopes that miners will gravitate toward the cards that don't ship with the game pack or optional hardware discounts. This could, in theory, give gamers a better chance at snagging a Vega card, even if there's a cost premium.
AMD's graphics cards haven't typically been power-efficient, and it doesn't look like Vega will change the status quo. AMD said the total board power for the base Radeon RX Vega 56 is 210 watts, while the air-cooled Radeon RX Vega 64 (including the aluminum LE version) is 290 watts. The liquid-cooled version pushes 350 watts under heavy load.
All three Radeon RX Vega 64 variants we saw had a pair of 8-pin power plugs. It wasn't clear what the Radeon RX Vega 56 required, but since it's based on the same reference board, it's likely to also have connectors for two 8-pin connectors as well. As a 210-watt GPU though, it's unlikely to ever come close to taxing those connectors.
Performance? We'll find out
AMD didn't provide full performance benchmarks of the Vega series, but some tests the company revealed before its launch event on Monday implied that the Radeon RX Vega 64 can mostly go toe-to-toe with
Nvidia's GeForce GTX 1080.
Playing several games on an ultra-wide-angle 3440x1440 monitor, AMD said the Radeon RX Vega 64 hit between 53fps and 76fps. AMD's numbers showed that while the GeForce GTX 1080 could push 78fps on the top-end, the
minimum
frame rate of the GeForce GTX 1080 dipped a little lower to 45fps.
The higher minimum frame rate of the RX Vega 64, AMD officials said, can be credited to its use of the high-bandwidth cache controller and HBM2 memory.
AMD also said that in more than 100 games playing at 4K resolution, the Radeon RX Vega 64 can push more than 60fps.
When asked if AMD is concerned that it's now just coming out with a card that can compete with an Nvidia GPU that arrived some 14 months ago, AMD officials said they see upsides: Currently they have zero percent of the high-end GPU market, but now have a fighting chance for 95 percent of that hardcore enthusiast market.
Although no performance numbers were shared on the lower-priced Radeon RX, officials hinted it would give the GeForce GTX 1070 a good run for the money.
Although some may be disappointed that the Radeon RX Vega 64 appears to only pull even with the GeForce GTX 1080—rather than greatly surpassing it—pricing could be in AMD's favor. The mining craze has pushed pricing of the GeForce GTX 1080 to $699, with the GeForce GTX 1070 hovering in the $500 range.
The Radeon RX Vega 64 stands at $499 and the Radeon RX Vega 56 at $399—unless miners also decide to being vacuuming up every Vega card they can get.