'We believe that analogue skills, such as writing, drawing and crafting play a necessary and complementary role in the digital world'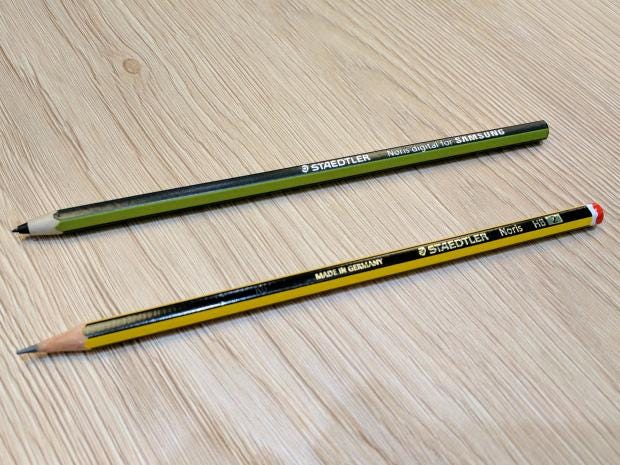 It is essentially the company's impressive new S Pen repackaged
Possibly inspired by the wave of nostalgia carrying the resurrected Nokia 3310, Samsung has unveiled its own throwback device of sorts.
The company has teamed up with Staedtler to create an S Pen that looks like the iconic Noris pencil.
Designed to work with the freshly launched Galaxy Tab S3 and Galaxy Book, the digital version of the Noris is essentially Samsung's new S Pen repackaged.
They can both detect 4,096 levels of pressure, and can be used to create digital notes and drawings on the company's latest pair of tablets.
The new S Pen is an impressive bit of kit, but it's let down by clumsy design. It feels both hefty and flimsy, and in the testing room its plastic body made discouraging creaking sounds whenever I squeezed it.
The digital Noris made a far better first impression, thanks to the fact it actually feels like a pencil.
"We believe that analogue skills, such as writing, drawing and crafting play a necessary and complementary role in the digital world as they build a foundation for human development," said Staedtler.
"With the Noris digital for Samsung, Staedtler can build a bridge between these two worlds."
Unfortunately, neither company has announced pricing or release information yet.